OREGON CITY TEDDY BEAR PARADE
Saturday, May 19th, 2018!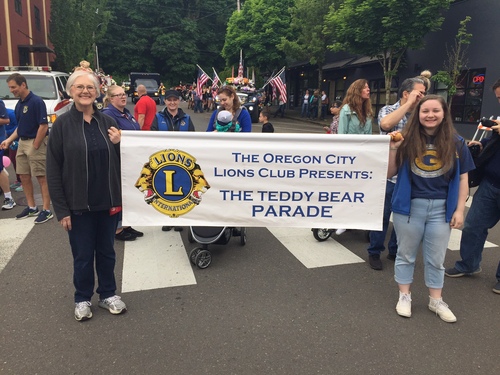 OUR PURPOSE
The Teddy Bear Parade is one of
Oregon
City
's signature events. It's a one-hour processional over a 1.10 mile route. The Teddy Bear Parade has been a community highlight for
Oregon
City
and Clackamas County for the past 21 years.
The Teddy Bear Parade gathers

NEW

teddy
bears and stuffed animals that are given to law enforcement agencies, fire departments, emergency rooms, children's hospitals and women's shelters in Clackamas County. These stuffed animals are then distributed to children throughout our community who need comfort in times of crisis. The parade is also a time for us to honor our emergency personnel who protect the entire community.
Parade Questions:
Email Michelle Don
mdon@citizensebank.com
Michelle Don 503-518-8808
21st Annual Teddy Bear Parade
Saturday, May 19, 2018
Check-in starts at 9:00 a.m.
Parade begins at 10:30 a.m. SHARP!
Check-in Procedure and
Staging Map:
Check-In Procedure:
Please have your group plan to meet you at your assigned staging area. A staging manager will be available to direct individuals to your location if they are lost.

Assign

ONE

representative of your group to check-in at the

check-in booth

at 10th and Main Street.

Enjoy the Parade!
Click PARADE STAGING MAP to Enlarge:
The parade begins at 10th and Main Street in Oregon City.
The parade will turn right at 14th and Main and continue for one block, then turn left onto Washington Street
The parade will proceed down Washington Street
Turning in to the End of the Oregon Trail Interpretive Center
Winding through the outer perimeter of the parking lot and ending
The Teddy Bear Parade would not be possible without the generous support from the
Oregon City Public Works Department
C.A.R.E.S (Clackamas Amteur Rdaio Emergency Services)
Oregon City Police
Thank you!